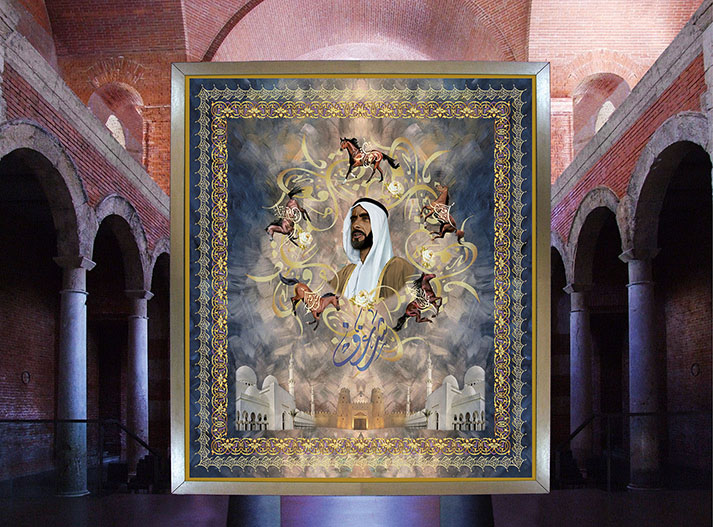 No. T01 | A Homage to HH Sheikh Zayed Bin Sultan Al Nahyan and his five favourite Arab horses
Gobelin / Tapestry | in preparation | Material: pure silk in a blend with natural yarns |
Price on application
No. T02 | A Homage to HH Sheikh Zayed Bin Sultan Al Nahyan and his five favourite Arab horses
Gobelin / Tapestry | in preparation | Material: pure silk in a blend with natural yarns |
Price on application
No. T03
|
A declaration of love to Arab culture and to the Arab horse
Gobelin / Tapestry | Format: 2.94 x 3.55m | Material: pure silk in a blend with natural yarns |
Price on application
|
Video
No. T03
|
A declaration of love to UAE and to the Arab horse
Gobelin / Tapestry | Format: 2.94 x 3.55m | Material: pure silk in a blend with natural yarns |
Price on application
|
Video
No. T03
|
A declaration of love to UAE and to the Arab horse
Gobelin / Tapestry | Format: 2.94 x 3.55m | Material: pure silk in a blend with natural yarns |
Price on application
|
Video
No. T03
|
A declaration of love to UAE and to the Arab horse
Gobelin / Tapestry | Format: 2.94 x 3.55m | Material: pure silk in a blend with natural yarns |
Price on application
|
Video
No. T03
|
A declaration of love to UAE and to the Arab horse
Gobelin / Tapestry | Format: 2.94 x 3.55m | Material: pure silk in a blend with natural yarns |
Price on application
|
Video
No. T03
|
A declaration of love to UAE and to the Arab horse
Gobelin / Tapestry | Format: 2.94 x 3.55m | Material: pure silk in a blend with natural yarns |
Price on application
|
Video
No. T03
|
A declaration of love to UAE and to the Arab horse
Gobelin / Tapestry | Format: 2.94 x 3.55m | Material: pure silk in a blend with natural yarns |
Price on application
|
Video
No. T03
|
A declaration of love to UAE and to the Arab horse
Gobelin / Tapestry | Format: 2.94 x 3.55m | Material: pure silk in a blend with natural yarns |
Price on application
|
Video
No. T03
|
A declaration of love to UAE and to the Arab horse
Gobelin / Tapestry | Format: 2.94 x 3.55m | Material: pure silk in a blend with natural yarns |
Price on application
|
Video
No. T03
|
A declaration of love to UAE and to the Arab horse
Gobelin / Tapestry | Format: 2.94 x 3.55m | Material: pure silk in a blend with natural yarns |
Price on application
|
Video
No. T03
|
A declaration of love to UAE and to the Arab horse
Gobelin / Tapestry | Format: 2.94 x 3.55m | Material: pure silk in a blend with natural yarns |
Price on application
|
Video
No. T03
|
A declaration of love to UAE and to the Arab horse
Gobelin / Tapestry | Format: 2.94 x 3.55m | Material: pure silk in a blend with natural yarns |
Price on application
|
Video
A declaration of love to Arab culture and to the Arab horse
The inspirations for this magnificent noble gobelin came to C.G.SCHUEBEL after a visit to the Islamic Museum in Abu Dhabi. And also from very good friends in the Emirates, who spoke with great pride and admiration of HH Sheikh Zayed Bin Sultan Al Nahyan, of their traditions and of their Arabian culture.
C.G.SCHUEBEL has created with this very exclusive tapestry, woven in masterly fashion with the most elegant of yarns, something quite special that has never been seen before. The high-value gobelin is not only a homage to the Arab horse and HH Sheikh Zayeds, displaying great love for them, but also pays homage to Arab culture and tradition.
The horse is the great pride of every man
The focal point of the work of art is the portrait of a splendid Arab horse, whose grace and beauty at once draws admiring looks. The onlooker is able to sense the love and pride that every horse owner bears in the heart. The message is under­lined by the brilliant calligraphy of the internationally renowned calligraphist Mourad Boutros, which C.G.SCHUEBEL has incorporated in her creation in mastery fashion. The red rose stands for the great admiration and respect felt for the founder of the Emirates and for his great love of the Arab horse.
The gobelin tells a story
Bursting with pride, the colourful gobelin tells a story of Arab horses, tradition and poetry, with a wealth of detail. With great skill C.G.SCHUEBEL has brought into her creation the national colours of the Emirates: red, green, white and black, infusing them with life. Like a splendid frame, the green oasis with ripe fruits, dates is set around the noble white falcons and Arab horses, the horse depicted in the centre. As an attribute of HH Sheikh Zayed Bin Sultan Al Nahyan, the time-honoured palace in Al Ain rises from the desert and finds its counterpart in the striking white Sheikh Zayed Moschee von Abu Dhabi, artistically framed by a magnificent bouquet of flowers. "Steeped" in the colours of the desert as it glows golden in the rising sun, the gobelin has a very special radiance.
Some personal words of the artist
It is a great honour and pleasure for me to present No. 1 of my first work.
I would like to express my sincere thanks to:
HH Sheikh Mansoor Bin Zayed Al Nahyan, to HH Sheikha Fatima Bint Mubarak and to HH Sheikh Mansoors Director of the Global Arabian Horse Flat ­Racing Festival, Lara Sawaya.
My very special thanks are due to the former UAE ambassador in Berlin, Mohammed Ahmed Al Mahmood and his family.
It has taken mutch time und energy – but the great mission has been worth it. Something of great value has emerged. It is my hope it will fill the heart with pride and joy.